PATRONAGE OF MATERNAL HEALTHCARE SERVICES AND ASSOCIATED FACTORS IN A RURAL COMMUNITY OF ZAMFARA STATE, NIGERIA
DOI: 10.36108/IJSI/2202.11.0320
Keywords:
socio-economic factors, postnatal care, antenatal care, maternal mortality, Maternal health
Abstract
A significant size of the Nigerian population lives in rural areas and improving health condition of the rural populace especially women and children is paramount to socio-economic development of a nation. This study investigated patronage of maternal healthcare services and associated factors in Yankuzo community, Tsafe Local Government Area (LGA) of Zamfara State, Nigeria. Quantitative and qualitative data were used for the study. Statistical Package of Social Science (SPSS) was used for quantitative data analysis, while ATLASti8 software was used for qualitative data. Underpinned by health belief model as the theory, the study discovered that utilisation of maternal healthcare services was very low in the community. Level of education, patriarchy, insecurity, suspension of financial grant, male healthcare providers and inadequate healthcare staff were the associated factors responsible for the situation. To improve utilisation of the services in the community, the study recommends provision of midwives in the facility and use of traditional and religious leaders for enlightenment of the populace. 
References
Adgoy, T. E. (2018). Key Social Determinants of Maternal health among African countries: a documentary review. MOJ Public Health. Available:
https://medcraveonline.com/MOJPH/MOJPH-07-00219.pdf. Accessed on 16th November, 2019.
Agunwa, C. C., Obi, I. E., Ndu, A. C., Omotowo, I. B.,Idoko, C. A,Umeobieri, A. K.,& Aniwada, E. C. (2017). Patterns of maternal and child health service utilization in a rural community in south eastern Nigeria. BMC Health Services Research, 17:715DOI 10.1186/s12913-017-2653-x
Al hazmi, M. J., Habib, M. H., Sebeih, H. S., Khan, M., Elmaghrabi, A. S., Tharwat, J., . . . Mahmoud, H. N. (2017). Awareness of antenatal care importance among Saudi pregnant women in Madina. Journal of Gynecology & Women's Health 4(4): JGWH.MS.ID.555649, 1-15.
Akowuah, A. J., Baffour, A. P., & Vitor, A. D. (2018). Determinants of antenatal healthcare utilisation by pregnant women in third trimester in pre-urban Ghana. Hindawi Journal of Tropical Medicine, ID 1673517, 1-8.
Amzat, J., & Razum, O. (2014). Medical Sociology in Africa. Switzerland: Springer.
Awasthi, S. M., Awasthi, R. K., Thapa, S. H., Saud, B., Pradhan, S., & Khatry, A. R. (2018). Utilization of antenatal care services in Dalit communities in Gorkha, Nepal: A cross-sectional study. Journal of Pregnancy, ID 3467308, 1-8.
Babalola, S., & Fatusi, A. (2009). Determinants of use of maternal health services in Nigeria - looking beyond individual and household factors. BMC Pregnancy and Childbirth, 9:43, 1 -13.
Desalew, Z., Ayele, B., Kedir, T. & Desalegn, A. A. (2014). Factors Affecting Utilization of Maternal health care services in Kombolcha District, eastern Hararghe Zone, Oromia Regional State, Eastern Ethiopia. International Scholarly Research Notices, ID 917058,
http://dx.doi.org/10.1155/2014/917058
Doctor, H. V., Findley, E. S., & Ager, A. (2012). Using community based research to shape the design and delivery of maternal health services in northern Nigeria. Reproductive Health Matter, 20(39), 104 - 112
Ewhrudjakpor, C. (2008). Cultural factors blocking the utilization of orthodox medicine: A case study of Warri Area in Delta State. Review of Sociology, 14 (1), 103-119.
Katung, P. Y. (2001). Socio-economic factors responsible for poor utilization of PHC services in rural community in Nigeria. Nigerian Journal of Medicine, 70(1), 28-29.
Ministry of Health, Z. S. (2020). Zamfara State estimated Ward Population. Gusau: Zamfara State Ministry of Health.
Mwase, T., Brenner, S., Mazalale, J., Lohmann, J., Hamadou, S., & Somda, A. M. (2018). Inequities and their determinants in coverage of maternal health services in Burkina Faso. International Journal for Equity in Health, PMC5948792, PMID: 29751836.
National Bureau of Statistics (2018). Statistical report on Women and Men in Nigeria. .Federal Government of Nigeria
Navaneetham, K. & Dharmalingam, A. (2002). Utilization of maternal health care services in Southern India. Journal of Social Science & Medicine 55 (2002) 1849–1869
Nigeria Demographic and Health Survey (2018). Abuja, Nigeria: National Population Commission.
Onasoga, O. A., Afolayan, J. A., & Oladimeji, B. D. (2012). Factors influencing utilization of antenatal care services among pregnant women in Ife Central LGA, Osun State Nigeria. Pelagia Research Library Advances in Applied Science Research, 3(3):1309-1315. Available online at
www.pelagiaresearchlibrary.com
Ononokpono, N. D. & Odimegwu, O. C. (2014). Determinants of maternal health care utilization in Nigeria: a multilevel approach. Pan African Medical Journal. 17( 1).
Rosenstock, I. M. (1974). Historical origins of the health belief model. Health Education Monographs, 2, 328–335.
Rosenstock, I. M. (1966). Why people use health services. Milbank Memorial Fund Quarterly,44(3), 94–127.
Solanke, L. B., Olusegun, A. O., Ambrose, A., & Samson, O. O. (2015). Religion as a social determinant of maternal health care service utilisation in Nigeria. African Population Studies, 29 (2),PP. 1868 – 1881
WHO. (1992). Maternal Health and Motherhood Program: family and reproductive health. Geneva: WHO.
WHO (2018). World Health Statistics: Monitoring Health for the SDGs. Geneva: World Health Organization.
WHO & USAID. (2018). WHO Recommendations on Antenatal Care for a PositivePregnancy Experience:SummaryHighlights and Key Messages from the World Health Organization's 2016. USA: WHO.
Yar'zever, S. I. & SAID, Y. I (2013). Knowledge and barriers in utilization of maternal health care services in Kano State, northern Nigeria. European Journal of Biology and Medical Science Research, 1(1), pp.1-14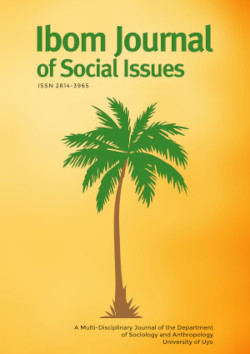 How to Cite
Yankuzo, K. I. (2023). PATRONAGE OF MATERNAL HEALTHCARE SERVICES AND ASSOCIATED FACTORS IN A RURAL COMMUNITY OF ZAMFARA STATE, NIGERIA: DOI: 10.36108/IJSI/2202.11.0320. Ibom Journal of Social Issues, 11(3), 12–24. Retrieved from https://ijsi.org.ng/index.php/home/article/view/36
License
This work is licensed under a Creative Commons Attribution-NonCommercial 4.0 International License.