GOVERNMENT ENTERPRISE EMPOWERMENT PROGRAMME: ITS EFFECT ON WOMEN DEVELOPMENT IN RURAL COMMUNITIES IN AKWA IBOM STATE
https://doi.org/10.36108/ijsi/2202.11.0250
Keywords:
Akwa Ibom State, Rural Development, Women Development, Government
Abstract
The study investigated the effects of government enterprise empowerment programme on women development in rural communities in Akwa Ibom State using four selected local government councils namely; Abak, Ibiono Ibom, Uruan and Etinan as case studies. The study adopted the modernization and empowerment theories which promote women empowerment and establish a link between cultural modernity with a high value for gender equality. It also adopts a simple percentage method of data analysis, especially the use of frequency tables and convenient sampling technique to collect data from 399 respondents with the aid of a 12 item questionnaire. The respondents comprised rural women empowered by government based on marital status, mode of occupation and age. The findings revealed that most rural women have benefited from government empowerment programme where free fertilizers, sewing, knitting and hand craft training programmes have been provided to rural women. On the contrary, the findings revealed that most empowerment officials have diverted funds and facilities meant to develop rural women. This is why government should put monitoring team in place to assess how empowerment schemes are executed.
References
Azam, M. (2016). The impact of foreign remittances on poverty alleviation: Global evidence.Interdisciplinary Approach to Economics and Sociology, 9(1), 264–281.http://doi.org/10.14254/2071-789X.2018/91/18
Afolabi, C. (2004). Women in Co-operation. J. Centre Rural Development Cooperatives, Nsukka: University of Nigeria Press.
Akujuru, C., A., &Okezie, N., (2019). Public policy and economic empowerment: A study of trader moni scheme of Buhari administration in Nigeria. Global Journal of Political Science and Administration, 7(3), 1-28.
Alemayehu, B. (2014). "The Impact of Education on Rural Women's Participation in Politics and Economic Activities". International Journal of Education Administration and Policy Studies. Vol.6(2), p. 23-31.
Ayittey, G. B. (2005). African Unchained: The Blue Print for Africa's Future. New York: Palgrave Macmillan.
Bell, D. (1999). The Coming of the Post-Industrial Society: A Venture in Social Forecasting. New York: Basic Books.
Garba,P. K. (1999). "An endogenous empowerment Strategy: A case study of Nigerian Women" in development in practice. 9(1-2) (double issue): 130-141.
*'Hardsock, N. (1998). The Feminism Standpoint Revised and other Essays. Boubler Co: West view press.
Iheduru, N. G. (2002). Women Entrepreneurship and Development: The Gendering of Microfinance in Nigeria. A paper presented at the 8th International Interdisciplinary Congress on Women, 21-26 July, 2002. Makerere University, Kampala, Uganda.
Latifee, H. I. (2003). Micro Credit and Poverty Reduction. Presented at the Interdisciplinary Conference on "Poverty Reduction through Micro Credit" held at Ceylan Intercontinental Hotel, Taksim-Istanbul, Turkey from June 09-10, 2003.
Mayoux, L. (2003). Empowering Enquiry: A New Approach to Investigation. A Consultant work for WISE Development Ltd. Mayra Buvinie.
Nwakeze and Oguniyi, M. (2014). Has Microfinance Impacted on Women Development in Nigeria? Unpublished Article.
Nwanesi, P. K. (2006). Development, Micro Credit and Women's Empowerment: A Case study of Market and Rural Women in Southern Nigeria. An Unpublished Ph.D Dissertation submitted to the Department of Sociology, University of Canterbury.
Okwe, M. (2019). Geep programme: An empowerment scheme wrapped in opaqueness. The Guardian, 31 March.
Oluwatoyin, A. (2013). "Women and Poverty Alleviation in Nigeria: The NAPEP Approach" In Academic Journal of Interdisciplinary Studies, 2(3).
Sule, J. and Anyigba Alinno, F. (2013). "Rural Economic Development Policy Implementation in Nigeria In International Journal of Academic Research in Business and Social Sciences vol. 3, No.2, pp. 168-172. The Oxford Advanced Learner's Dictionary, New 9th edition (2015). Oxford University Press.
Ukommi, A. S., Akpan, N. S. & Umanah, U. N. (2014). Women Education and Entrepreneurship Development in Nigeria:The Situation in Yobe and Akwa Ibom States. In Mbaya, P. Y. & Audu, A. R. (ed). Northern Region of Nigeria and the Challenges of Development: Readings in
Honour of Prof. Kyari Tijani. Makurdi, At-Mishad Publishers. pp 390-406.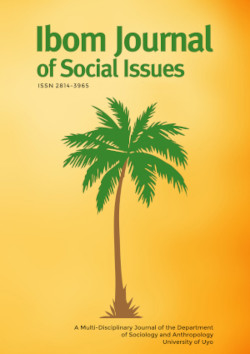 How to Cite
Akpan, G. E. . (2022). GOVERNMENT ENTERPRISE EMPOWERMENT PROGRAMME: ITS EFFECT ON WOMEN DEVELOPMENT IN RURAL COMMUNITIES IN AKWA IBOM STATE: https://doi.org/10.36108/ijsi/2202.11.0250. Ibom Journal of Social Issues, 11(2), 46–53. Retrieved from https://ijsi.org.ng/index.php/home/article/view/31