THE ROLE OF GUIDANCE AND COUNSELLING IN ENSURING EFFECTIVE ENTREPRENEURSHIP EDUCATION FOR THE ERADICATION OF GRADUATE UNEMPLOYMENT.
https://doi.org/10.36108/ijsi/2202.11.0260
Keywords:
entrepreneurship education and guidance and counselling, entrepreneurship, Graduate unemployment
Abstract
The paper examines the role of guidance and counselling in ensuring effective entrepreneurship education which will help in the eradication of graduate unemployment. The inclusion of entrepreneurship education in the curriculum of tertiary institutions by the Federal Ministry of Education was intended to make graduates to be self-employed and job creators thereby reducing unemployment in Nigeria. Despite this introduction for all these years, unemployment seems to be on the increase. The value of entrepreneurship
education does not seem to have sufficiently impacted on them Based on this, the question arises: why the entrepreneurship education given to our students is not yielding the required result which is job creation? This work is based on cognitive counselling theory. The data was collected through literature review and it was found out that there is a strong positive relationship between career counselling and entrepreneurial development skills which reduce unemployment. It was concluded that for graduate  unemployment to be eradicated in Nigeria, the counsellors must ensure that effective entrepreneurship education is put in place. The paper finally recommends the introduction of a course on entrepreneurship education counselling which should precede the main general course on entrepreneurship education in all tertiary institutions in Nigeria. 
References
Ajufo, B. I. (2013). Challenges of Youth Unemployment in Nigeria: Effective Career Guidance as a Panacea. African Research Review, Vol. 7(1)
Akhuemonkhan, I. A Raimi, L. and Sofoluwe, A. O , (2013) Entrepreneurship Education and Employment Stimulation in Nigeria, Afro Asian Journal of Social Sciences Volume 4, No. 4.1 pgs 1-22
Akpan, E.I , Effiong, S.A , Ele, A.A(2012).Entrepreneurship Education Policy: An Intervention Strategy For Economic Development In Nigeria. Business & Entrepreneurship Journal, vol.1, no.1
Brown, P. B. (2012). Why everyone will have to become an Entrepreneur (Crowd Sourced Version). Retrieved from http://www.forbes.com/sites/actiontrumps everything/2012/11/03/whyeveryone-will-have-to-become-an-entrepreneurcrowd-sourced-version/ Danko, S. (2005).
Egbe-okpenge, E. G. and Orhungur, M. M. (2012). Gender issues in entrepreneurial development in Benue state and counselling implications. Bulgarian Journal of Science and Education Policy, 6, (2), 386-397.
EGBE-OKPENGE, E. G. and IGBO, H. I. (2013). Relationship Between Counselling And Entrepreneurship Development Skills Of Nigerian Final Year Undergraduates. Procedia - Social and Behavioural Sciences 84 ( 2013 ) 120 – 127. Available online at www.sciencedirect.com
Eyo, E. (2010). Food production: An Africa challenge. Central Bank of Nigeria, Economic and Finance Review, 39(1): 13.
Emenyeonu,A.E.& Ogunsola, A.O.(2012). Entrepreneurship education: Realities and challenges. Abuja; International Journal of Education and Management Sciences, 1(2),86-97. Entrepreneurship education: https://en.m.wikipedia.org (retrieved March 2020)
Enu, D. B. (2012). Enhancing the entrepreneurship education in Nigeria. American Journal of Social Issues and Humanities, 2(4), 232–239. Retrieved from http://www.ajsih.org/index.php/ajsih/article/view/54/5
Essuman, J. K(2007). Guidance and Counselling in basic and secondary schools in a Ghana. Journal of Counselling, Education and Psychology1(2) 142-143.
Ezeribe, S.N. (2012) Fostering entrepreneurship development in Nigeria through Guidance and Counselling : Nigerian Journal of Empirical Studies in Psychology and Education.1(13) 113-120.
Ezeribe, S.N(2020) Effective counselling strategies for colleges of education science students towards entrepreneurship skill development in south east Nigeria. Review of Education. A publication of the Institute of Education University of Nigeria Nsukka. 32(1) 322- 328
Gabadeen, W. O. and Raimi, L. (2012) Management of Entrepreneurship Education in Nigerian Higher Institutions: Issues, Challenges and Way Forward. Abuja International Journal Of Education And Management Sciences (ABIJEMS), 2. 1-26
George-Izunwa, M (2022) Childhood Education and Self-reliance for sustainable development. Journal of childhood motivators in education 2(1) 9-15. https://en.m.Wikipedia.org/wiki/unemployment https://www.businesscompilerng.com/2021/07/importance-of-offering-entrepreneurship.html https://www.visioncounselling.com.au/what-is-counselling International Labour Organization (2011): ILO in Nigeria. United Nations System in Nigeria. Available on http://www.un-nigeria.org/unagencies/ilo.html
Kheiravar and Qazvini. (2012). Exploring the relationship between Entrepreneurship and Unemployment rate in Industrial Sector of Azarbayjan-E-Sharg .International Journal of Organizational Leadership, 1(2); 45-59
Lunenburg,A. (2010) - The Entrepreneurial Development System: Transforming Business Talent and Community Economies - Economic Development Quarterly. 15, pp 3-20.
Oguntimehin, Y.A. & Nwosu, J.C. (2014). Building A Sustainable Development Through Entrepreneurship Education in Nigeria. Kuwait Chapter of Arabian Journal of Business and Management Review 3(7).
Olorundare,A.S and Kayode,D.J(2014).Entrepreneurship Education in Nigerian Universities: A tool for national transformation. Asia Pacific Journal of Educators and Education, 29; 155–175.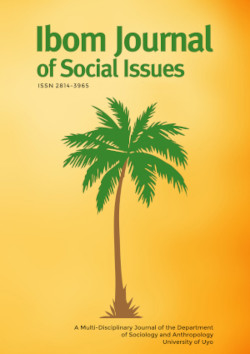 How to Cite
Ezeribe, S. N. . (2022). THE ROLE OF GUIDANCE AND COUNSELLING IN ENSURING EFFECTIVE ENTREPRENEURSHIP EDUCATION FOR THE ERADICATION OF GRADUATE UNEMPLOYMENT.: https://doi.org/10.36108/ijsi/2202.11.0260. Ibom Journal of Social Issues, 11(2), 54–63. Retrieved from https://ijsi.org.ng/index.php/home/article/view/32